Framed (1947)
Columbia
Director: Richard Wallace
Screenplay:Ben Maddow, Jack Patrick(story)
Cast: Glenn Ford (Mike Lambert), Janis Carter,
Barry Sullivan, Edgar Buchanan, Karen Morley,
Jim Bannon,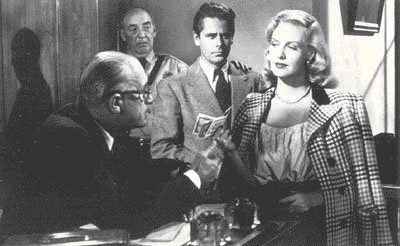 Glenn Ford, Janis Carter
Greedy girl (carter) schemes with banker lover(Sullivan) to commit perfect theft. GF is the chosen fall-guy to be killed in a car smash. Twist: she falls for Ford and kills Sullivan instead. Ford turns her in.
The brisk direction and good acting made this down-market "Double Jeopardy" look a lot fresher than it was.
It was Ford only film for 1947.


The Return of October(1948)
Columbia
Director: Joseph H. Lewis
Screenplay: Norman Panama, Melvin Frank
Cast: Glenn Ford (prof.Bentley Bassett,jr.), Terry Moore, James Gleason, Dame May Whitty, Albert Sharpe, Henry O'Neill.
Terry Moore, Glenn Ford
Filmed in Technicolor,the film was good fun.
A fantasy about a young woman (Moore) whose late rich uncle is reincarnate as a thoroughbred horse named October, or at least he is as far as she is concerned. She is tried for insanity and become the subject of a book written by psychologist Ford. They fall in love.
It was another of the type of movies Ford will be given for the next five or six years. Good solid commercial productions with average performances by casts of seasoned contract performers.

The Undercover Man (1949)
Columbia
Director: Joseph H. Lewis
Screenplay: Sidney Boehm, Marvin Wald, Jerry Rubin
Cast: Glenn Ford (Frank Warren) Nina Foch, James Whitmore, Ken Harver, Esther Minciotti, Barry Kelley,Kay Medford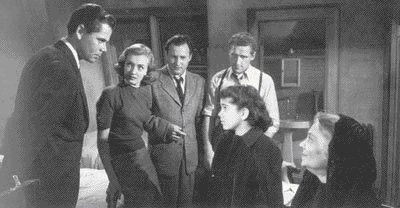 Glenn Ford, Nina Foch, Leo Penn, James Whitmore, Angela Clarke, Esther Minciotti
Inspired by Al Capone's arrest for tax evasion, this crime thriller has GF asa TMan out to nab "Big Fellow", a shady character who owes more than $3million in back taxes.
The film had no new ideas but what there was was handled expertly and the film turned out an interesting one.

Mr Soft Touch (1949)
Columbia
Director: Henry Levin & Gordon Douglas
Screenplay: Orin Jannings, Milton Holmes
Cast: Glenn Ford (Joe Miracle), Evelyn Keyes, John Ireland, Beulah Bondi, Clara Bandick, Percy Kilbride, Ted de Corsia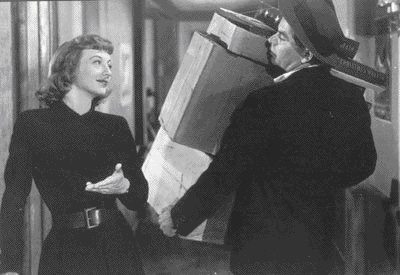 Evelyn Keyes, Glenn Ford
GF stars in this unconvincing drama as a hunted gambler who takes refuge in a settlement house and helpsthe needy, falling in love with social worker Keyes at the same time.
The movie had good supporting cast but came out pretty dull.

The Doctor and the Girl (1949)
Metro-Goldwyn-Meyer
Director: Curtis Bernhardt
Screenplay: Theodore Reeves from the novel by Maence van der Meersch
Cast: Glenn Ford (Dr. Michael Corday), Charles Coburn, Gloria DeHaven, Janet Leigh, Bruce Bennett, Nancy Davis, Arthur Franz
In one of his few loan-out of his first decade at Columbia, GF is appropriately sterile as idealistic young doctor who marries poor girl and practices medicine in NY City's slums.
A good drama, with a good cast it was Ford's 27th picture.


The Mating of Millie (1948)
Columbia
Director: Henry Levin
Screenplay: Louella MacFarlane, St Clair McKelway, Adele Commandini(story)
Cast: Glenn Ford (Doug Andrews), Evelyn Keyes, Ron Randell,Willard Parker,
Evelyn Keyes, Glenn Ford
Bright albeit predictable comedy in which Keyes decides to adopt a child but has to find a husband first. GF is the rather charmless oaf who volunteer to coach her in the way of ensnaring a man. Naturally she ensnares him.
It was not a world-beater, but agreeable and charming nevertheless.

The Man from Colorado(1948)
Columbia
Director: Henry Levin
Screenplay:
Cast: Glenn Ford (col.Owen Devereaux), William Holden, Ellen Drew, Ray Collins, Edgar Buchanan, Denver Pyle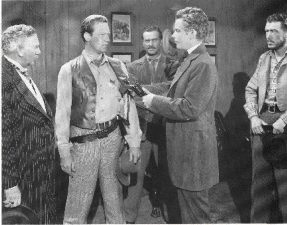 William Holden, Glenn Ford
A great cast and solid performances elevate this post-Civil War psychological Western about a former northern Colonel (GF) who becomes a federal judge in Colorado but can't separate legal justice from the blood lust the war has instilled in him. Holden plays his friend who will eventually antagonize him. The actors were teamed for the second time and worked well together.

The Loves of Carmen (1948)
Columbia
Director: Charles Vidor
Screenplay: Helen Deutsch
Cast: Rita Hayworth, Glenn Ford (Don Jose) Ron Randell, Victor Jory, Luther Adler, Margaret Wycherly,
Glenn Ford, Rita Hayworth
As the heroine of Prosper Merimee's famous tale of passion and death, Hayworth made an eye-catching and dramatic impact in the role she was born to play. She produced the film and everything was ravishing but for one miscalculation: The casting of Glenn Ford as Don Jose. a monumental error from which the film never fully recovered.
The twentieth screen version of Carmen, was a critic and public failure and Ford's career was not aided by this blunder, for sure.

Lust for Gold (1949)
Columbia
Director: S.Sylvan Simon
Screenplay: Ted Sherdeman & Richard English from the novel "Thunder God's Gold" by Barry Storm
Cast: William Prince, Glenn Ford (Jacob "Dutch"Walz), Ida Lupino, Gig Young, Edgar Buchanan, Will Geer, Paul Ford,
~Photographed in sepia~
Glenn Ford, Ida Lupino
A straightforward adventure yarn, it anatomized man's greed for gold. We follow the fortunes of a searcher (William Prince) doomed for failure and death and in flashback we learn the story of the treasure he is looking for, The Lost Dutchman Gold Mine in Arizona, discovered a century before by a Dutchman (GF) who, to keep its yield to himself, murdered both the woman he loved (Lupino) and her Husband(Young) and is killed in an earthquake. A good film.